Stoner Rock & Psychedelic Space Rock
1700+ curated Stoner Rock Psych Fuzzy Doom for exploring the infinite deep space desert in your space van! This is a radio at this point: just hit shuffle with a blunt and enjoy!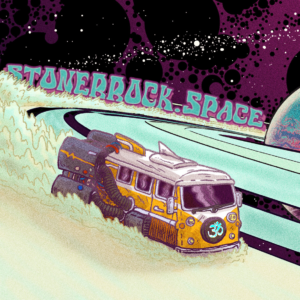 Relaxing Space Stoner Rock
Use this for your meditation, relaxation, sleep or when you PROCEED! The chillest of the chillest from my Stoner Rock playlist above and even more!
Fullscreen, Sit back and relax:
Hear the mountains scream!
This playlist is focused on Stoner Rock with some pretty heavy vocals performances!
Instrumental only playlist:
0% vocals for 100% instrumental.
A fuzzy mixt between Stoner, Psychedelic Rock, Post and Dooooooom!
Auditive psychedelics: Shamanic, Hindu, Folk, Northern, Eastern, and others influences in Stoner Rock from around the world…It's the good shit man
Feel the taste of the desert' dust during roadtrips on 40° under the red sun: Garage, Heavy Psych, Desert and of course, wait for it.. FUZZ!
Enjoy your long journeys regardless of time with theses very long Psychedelic Stoner Rock Space & Doom tracks, could be whole albums at this point.
Wide variety of positive psych rock, soft vocals, synth, groovy, pop, indie and many good vibing stuff.
You want to play LIVE in Paris ?
Here are 2 great booking associations specialized in
Stoner Rock / Doom / Fuzz underground gigs in Paris (France):Seriously, please, come play in my town.
You want to be INCLUDED in a playlist ?
Sorry, I don't take direct suggestions anymore: I got too many messages and I could forgot to answer.
But from now, you can suggest me your band on SubmitHUB!
Click on the picture below to get on my SubmitHUB profile:

(You can use it for free)

It's a plateform where artists can send their songs to curators and chat.


You can also find more bloggers / playlisters there.
Paying options just makes your song more priority (answered in 48h) with a written feedback.


I listen to ALL submissions (free or premium) but I can take a really long time to choose the songs. If my account is inactive, you can still send me songs, I'll have them when I get back 😉


Thank you for considering to send me your stuff!